So after going back and forth, I finally decided that I wanted black office furniture instead of white. Mainly because some of the pieces I put in my spare room can come in handy in the office/loft when I go from black to white in there for the baby's room. So I need some opinions. I found these 2 desks. The first is from
PB- The Aris Large Desk Suite-
at $999.00. In black-it just pictured better in mahagoney.
This is the second one I found from
JCPenny.com- Linden Street Ebony Lane Black Desk
on clearance for $279.00.
They are both very similar, but the PB one is 68" and the JCPenny one in 50". Both are still oversized and very similar to what I am looking for.
Or else, the one I love love love is from
PB-The Porter Collection at $599.00
. Again in black-the white pictured better.
And my office inspiration pic- from
CopyCatChic's
blog- which is my all time favorite blog ever. Check it out!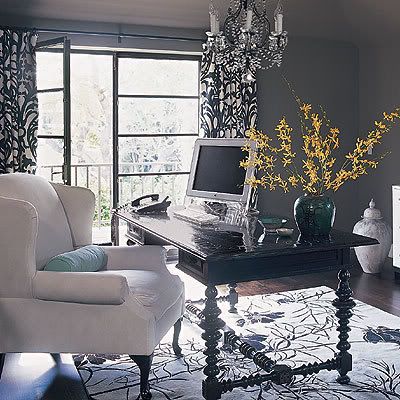 I have the cutains in my guest room that need to come down, so I figured this would be the perfect space for them and I can finally finish my office so it is similar to my inspiration pic. WDYT? Which desk should I go with?